PERFORMANCES
October 19, 21.00
RISEBA Architecture and Media Center H2O6, Durbes iela 4.
Admission – free.

PERFORMANCES:
Platons Buravickis (LV)
Michal Kindernay (CZ)
Sean Montgomery & HIVE MIND (US)
Gustavs Lociks (LV)
Not Even Born Yet (LV)
Andrea Mancianti (FI/IT)
360-degree video by Aigars Ceplitis (LV)

ABOUT
Platons Buravickis (LV)
Platon Buravicky – Composer of Contemporary classical music and pianist (b. 1989). Electronic music producer and sound designer (Max/msp and Ableton Live).
Based in Riga, Latvia. Studying with Vilnis Šmidbergs, Pēteris Vasks, Selga Mence and Rolands Kronlaks.
The composer and pianist Platon Buravicky was born on May 10, 1989 in Riga. He graduated the Riga 5th School of Music (1998–2002) specialising in piano (also studying composition with Vilnis Šmīdbergs), and the Emīls Dārziņš College of Music Keyboards Department (2002–2007, studying composition with Pēteris Vasks). He received a Bachelor's Degree from the Jāzeps Vītols Latvian Academy of Music, studying composition with Selga Mence (2009–2013), and, under her direction, continues his Master's studies. As of 2007, he supplements his knowledge with many teachers – he participated in algorithmic composition courses with Achim Christian Bornhoeft, electro-acoustic composition courses with Rolands Kronlaks, composition master classes with Dieter Mack, Alexander Tchaikovsky, Christian Wolff, Richard Cameron-Wolfe, and Ed Benett, and electro-acoustic music master classes with Lamberto Coccioli and James Bullock.
His works have received awards at the new composition competition (1st place – 1999, 2007) and at the Pēteris Vasks composition competition (2nd place – 2012, 3rd place – 2014). His music has been performed at the festivals Skaņu mežs, Dominante, Survival Kit 5, Art and Communication, Arēna, Latvijas Jaunās mūzikas dienas, and elsewhere.
He has worked as a teacher of music theory at the Jugla School of Music (2011–2013) and as a music teacher at the Riga Classical Secondary School (2011–2014). As of 2013, he is a teacher of composition and music programming at the Jelgava College of Music.
https://soundcloud.com/platon-buravicky
Michal Kindernay (CZ)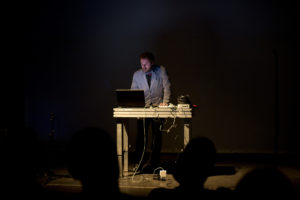 Michal Kindernay is an intermedia artist, curator and performer. His audio-visual installations interconnect art, technology and science. He reflects ecological issues through various technological approaches in relation to nature environment. His works include video performances, interactive installations or experimental documentary projects or sound compositions. He is one of the founders or yo-yo non profit culture organization, RurArtMap project and he was part of Školská 28 gallery collective in Prague. He is an external teacher in Centre of Audiovisual Studies in Film and TV School of Academy of Performing Arts and in new Masters program in Prague College. As organizer or artist he was involved in many international projects. He works and lives in Prague.
Sean Montgomery & HIVE MIND (US)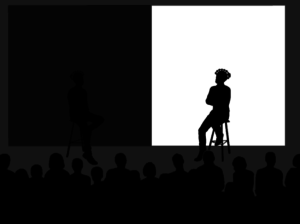 HIVE MIND is a peek into the future of augmented cooperative cognition. Pulses of light and sound, synchronized to the brain rhythms of two performers, create an immersive environment that transports the audience to altered states of consciousness. Based on neuroscientific research showing that rhythmic stimuli can entrain neuronal oscillations to alter perception, memory formation, and mood, HIVE MIND uses the performers' live EEG and data processing to directly convey the performers' brain states. As one performer's brainwaves become the stimuli that entrains the other performer's brain patterns, a public brainwave-driven conversation unfolds between the performers. Together the performers and audience go on a journey through different induced brain states and altered perceptions, ultimately considering broad implications for the future of human cognition and communication.
Gustavs Lociks (LV)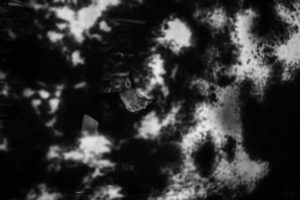 Ambient information – a sonic exploration of disruptiveness and ambience, resulting in mixture of polar opposites – of calmness and harsh noise, saturated melodies and stagnative frequencies, rhythmic structures and asynchrony.
Not Even Born Yet (LV)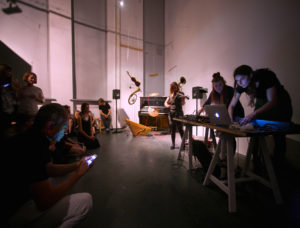 Electronic and classical instruments, manipulation and programming of sound, dysrhythmia and harmony — the incompatible is combined in musical compositions in order to create something joint, comprehensive, as well as cryptic and strange.
Andrea Mancianti (FI/FR)
Andrea Mancianti is a composer and performer mostly devoted to mixed music. He studied composition with Rosario Mirigliano and electronic music with Marco Ligabue in the conservatory of Florence. He also studied with Pierluigi Billone, George Aperghis, Tristan Murail, Beat Furrer and Yan Maresz, among others, and he participated to the IRCAM's Cursus 1 in Paris (2013-2014). His background is otherwise rooted in progressive and psychedelic rock, free improvisation and IDM electronic music and he has been part of several bands as guitarist, electronic musician or composer/arranger, where he developed a strong need for collective, participated creative practices.
In his work he am interested in exploring the social and aesthetic boundaries between popular and contemporary music, questioning the roles of composer, performer and public. His latest projects investigate compositional and performative aspects of hybrid acoustic-electronics instruments extended through complex feedback networks and real-time sound analysis.
He is also part of the Helsinki Sound Electronic (HelSE) hack-lab, to approach instrument building from a DIY and DIT perspective and he is a strong supporter of open culture and copyleft.
His works have been written preferably together with specific players, through long-lasting collaborations and have been performed in Europe and USA, for institutions such as Ircam (Paris), Biennale Musica (Venice), Impuls and KUG (Graz) Nuova Consonanza (Roma), Sibelius Academy (Helsinki) and others. My latest pieces include Autophagy, written for ensemble A.S.K., No Heroics, please, for electric guitar and accordion, written for Promenade Sauvage, Apophenia, for actor/percussionist, bass clarinet, double bass and electronics and Epäjärjestelmällisyydestaköhän, for viola, electronics and low-fi devices.
https://www.andreamancianti.com/

Aigars Ceplitis (LV)