Artists: Rasa Smite and Raitis Smits
Virtual reality expands our visual and sensory experiences. Although it seems VR has become popular only nowadays it already has its own history from illusions to stereoscopic images, from panorama images to holograms. If earlier complicated technologies were required to create and view virtual realities, then today then can be experienced, for example, on your phone.
Long story short, today VR/AR (virtual/augmented reality) is almost everywhere! Even in the Kemeri bog in which RIXC artists Rasa Smite and Raitis Smits set up this year environment surveillance cameras and "bacteria batteries" with sensors. By the end of summer various data about the swamp ecosystems and images will be collected and drone flights equipped with 360 degree cameras will be made. The visitors of the exhibition will be able to see the data visualizations of the swamp ecosystems and experience flights above the bog in VR headset during the whole exhibition time. Using VR artists tend to look at new perspectives of our relationships with nature revealing the poetics of the "green energy".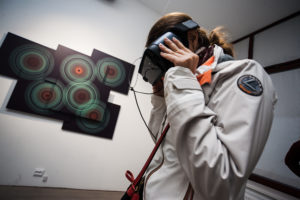 Exhibition will be open until October 28, 2017.
Venue: RIXC Gallery
Address: Lenču iela 2, Riga, LV-1010
Opening hours: from Monday to Saturday, 12.00 – 18.00; Sundays – closed
Entrance free
More information: http://rixc.org, rixc@rixc.org, +371 67228478, +371 29746163.
Support: State Culture Capital Foundation of Latvia, Riga City Council, the Ministry of Culture of the Republic of Latvia, Nordplus, Liepaja University, Art Research Lab of Liepaja University